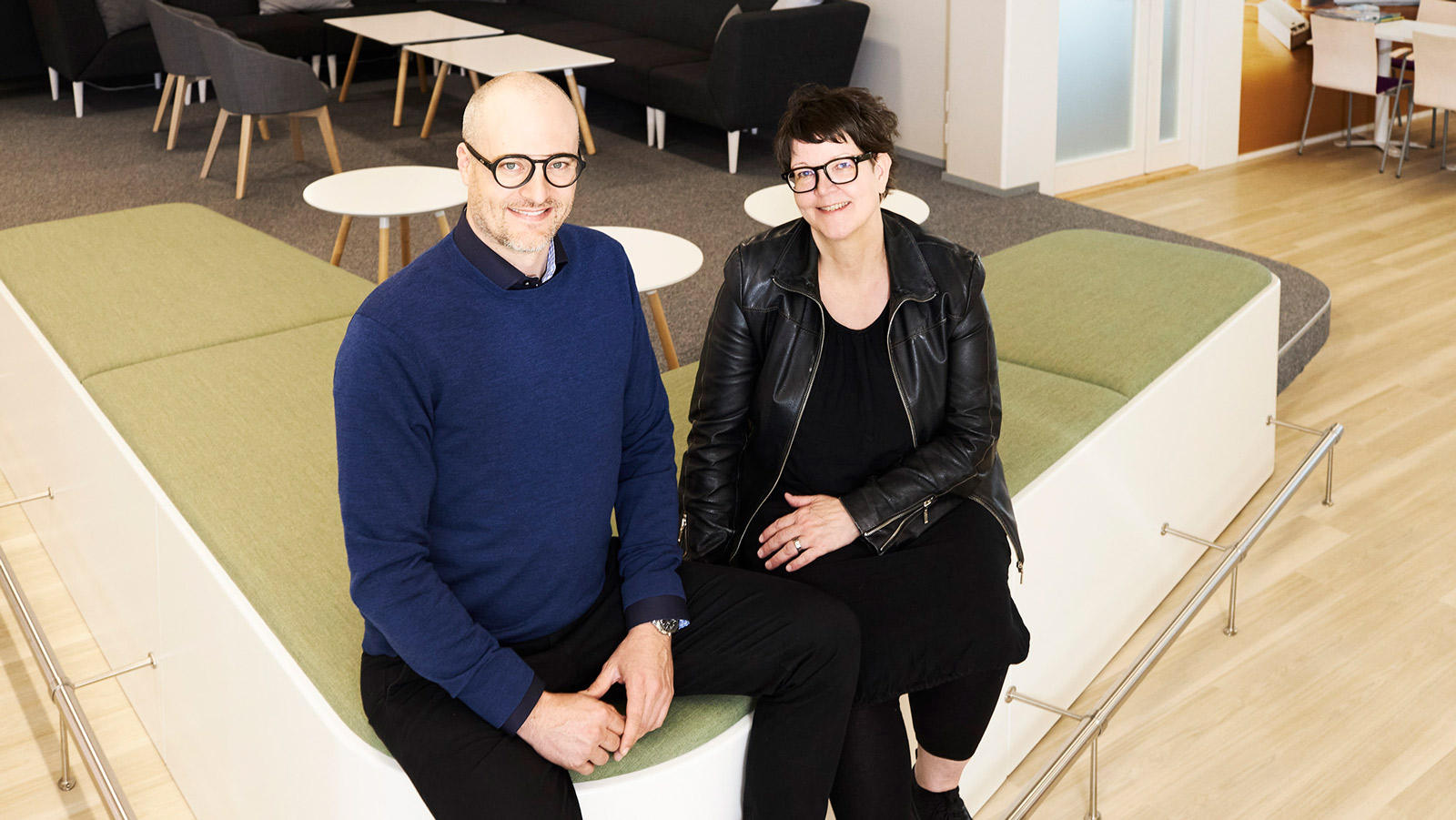 Providing functional and user-friendly tools to our professionals is at the core of our business.
Coronaria, which is among the largest healthcare service providers in Finland, belongs to the domestic Cor Group. It employs over 4,000 healthcare professionals. Its extensive range of services includes specialized healthcare, primary healthcare, and rehabilitation services for individual, corporate, and public healthcare clients in over 140 locations. From the very beginning, the company has aimed to be a catalyst for healthcare innovation and a pioneer in Finland. "We challenge prevailing operational models and contemplate how different aspects could be done better or more efficiently", describes Teemu Mattila, the CEO of Coronaria Health Services.


Developing tools and processes at the core of the business
This year, Coronaria has directed its development efforts towards the harmonization of information systems and processes. Healthcare professionals typically work with multiple client accounts and manage their work in various patient and customer information systems. Coronaria's professionals also use several software programs, some of which may overlap, to deliver their services. Additionally, the methods used by doctors to report their work tasks and hours to Coronaria's administration for billing and payroll purposes have varied and relied heavily on manual processes, such as Excel files and email communication. According to Mattila, there has long been a strong desire to standardize practices and free up time for both doctors and administration by reducing manual work.
A significant change initiative was launched in the spring of 2022 when Coronaria decided to differentiate itself in the market and build a digital tool for all healthcare professionals within the company. This tool would provide a unified process for managing work hours and tasks, enable monitoring of work relate data from one place, and automate previously manual administrative processes. "We want to provide healthcare professionals with the best possible tools and user experience. Satisfied employees are our most valuable asset, and currently, like the rest of Finland, we are struggling with a labor shortage in the healthcare industry. Providing functional and user-friendly tools to our professionals is at the core of our business", Mattila explains, highlighting the strategic significance of the project for Coronaria.
An application was developed to free up experts' time
In order to achieve this ambitious goal, the search for a suitable partner was initiated: "We explored various options, and the expertise of Efima's professionals made a big impression on us", recalls Tiina Ihme, Coronaria's ICT Development Manager. "At the same time, we chose the low-code-based Microsoft Power Apps technology as the solution platform. It was seen as an agile and cost-effective approach for developing a tailored application to meet our needs, and it offers nearly endless possibilities for future expansion."
As a result of the collaboration between Coronaria and Efima, an application named Expert's Desktop App was created. The app has already received positive feedback from Coronaria's users. The application provides Coronaria's professionals with a unified and clear workflow for time management and reporting: "Our contacts handle shift scheduling in the application, and doctors can view real-time available shifts and also know where they need to be at any given time. Shift reservations and tasks performed during these shifts are recorded in the same application, and the recorded information automatically flows into our administration for payroll, commission payments, and invoicing", Ihme describes. While the application streamlines the daily work of doctors, it also enhances the efficiency of Coronaria's administration and improves visibility into business performance.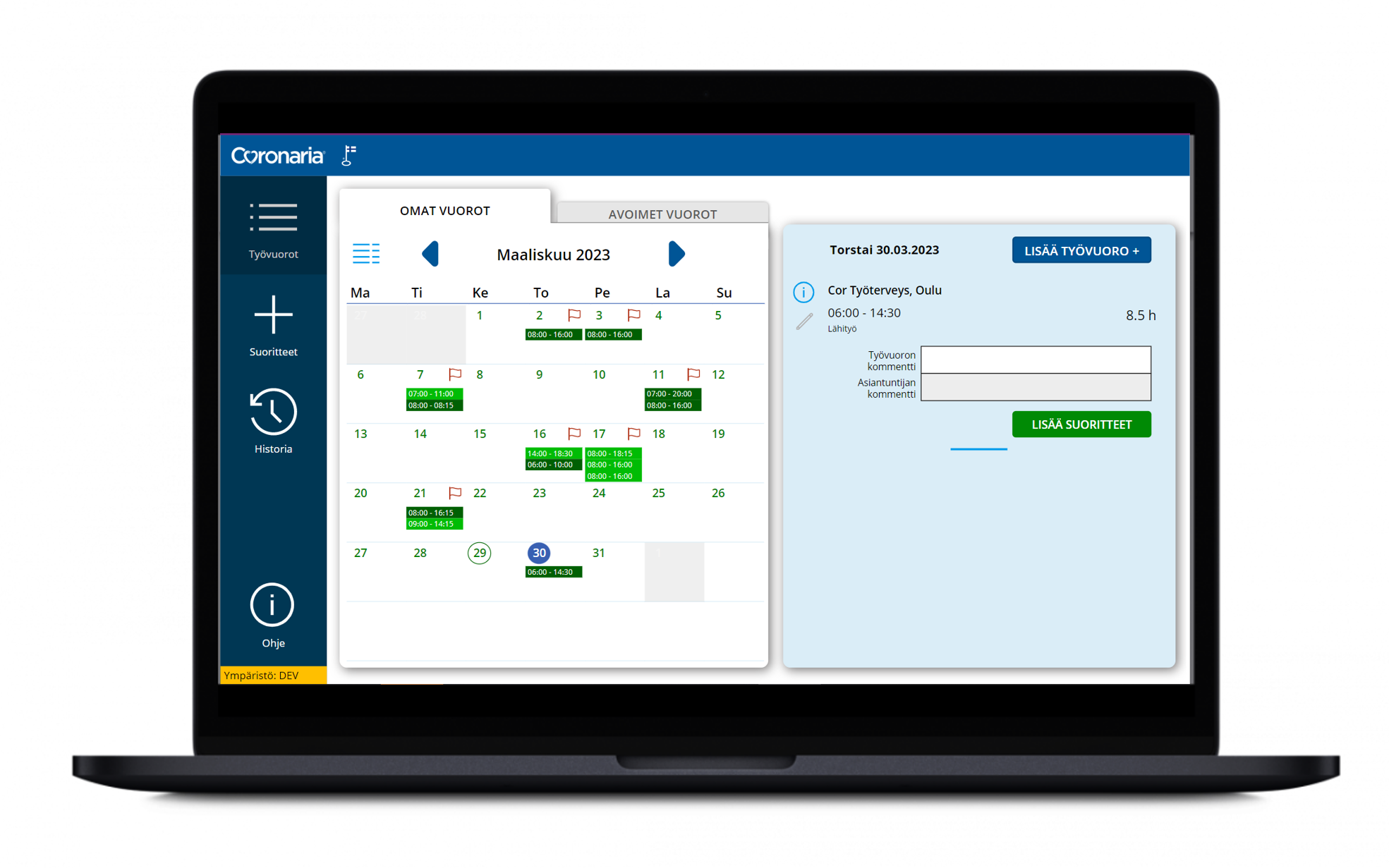 Work shift selection in the Expert's Desktop App


Listening to end-users ensured a great outcome
The application will be implemented in the company's initial enterprises in the summer of 2023, followed by a phased rollout. At the threshold of implementation, both Mattila and Ihme express their gratitude to their own team and Efima for the success of the project. The initial impression of Efima's employees has carried through the project, and the collaboration has been open and smooth from both sides. A key factor in the success has also been the active involvement of end-users in the development of the application. "Both Efima and our project team have focused on listening to the end-users and understanding their needs. They have been engaged from the beginning in definition workshops and throughout the journey in interface testing. This has resulted in a final product that serves its users", Ihme explains.
Both low-code development and Efima will continue to have a place within Coronaria. "IT solutions are subject to continuous development, and the goal is to continue growing and developing services together with Efima", Mattila says. Ihme, responsible for ICT development at Coronaria, sees many benefits in the development of low-code solutions for companies like Coronaria. "We are not a software development company, so it is useful to have a wide range of ready-made components, interfaces, and reporting solutions available for our application development needs, which we can flexibly utilize for our own requirements." However, Ihme believes that the best results are achieved with the help of a skilled partner. "It is worthwhile to leverage existing knowledge and invest in selecting the right partner", Ihme advises.
---

Could we help you too?
You can contact us via the form below.