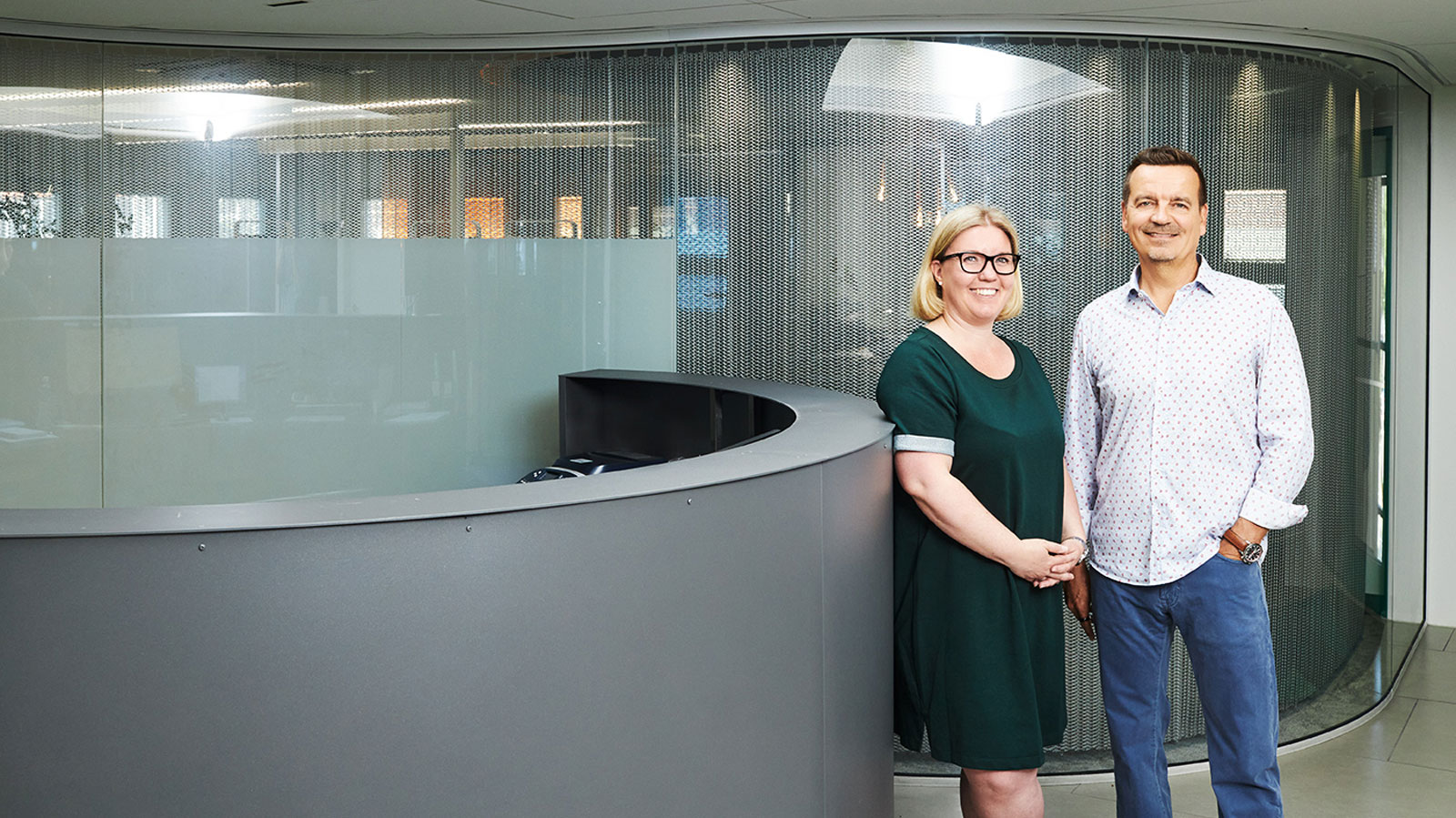 Undoubtedly, the most crucial achievement here is the establishment of a true partnership.

We arrive at the headquarters of Finnish interior building specialists in Herttoniemi, Helsinki. The office serves not only as the main base for almost 600 employees but also as a showcase for their craftsmanship. In the lobby, one's eyes are drawn to the wooden panelled ceiling and walls, as well as sound-insulating curved glass walls. Inlook is a domestic family-owned company founded in 1967, which has been providing interior building solutions for workspaces, businesses, and various gatherings for nearly 60 years. You can still run into the 86-year-old founder of the company in the office corridors, and judging by the cheerful encounters, it seems that also newer members have become a part of the family.

Inlook values both long-term relationships with its employees and customers, and it strives for the same in its partnerships. "One of Inlook's core values is that we enjoy working together. We aim to choose our collaborators in a way that makes working together enjoyable", Inlook's Vice President Sourcing Antti Metsola and Head of Group Services Sanna Leskinen describe. However, fun alone is not enough; quality and professionalism must also shine through in everything they do.
Experiences with Efima and Microsoft Dynamics 365 (spoken in Finnish)
The digital core of interior building projects brings data and processes together
One of the strategically important partnerships Inlook has formed is with Efima. Efima is responsible for maintaining and developing Inlook's ERP (Enterprise Resource Planning) solution. The company's digital core, Microsoft Dynamics 365, integrates essential business processes for Inlook, including sales, procurement, financial management, inventory management, logistics, and project management, along with the data generated from these processes, into a single business platform. In collaboration with Efima, mobile applications based on Microsoft Power Apps have also been built within the ERP solution, allowing Inlook employees working in the field to conveniently access the ERP system.

One of these mobile applications is designed for making inventory orders, allowing project managers to place orders while in the field. Previously, missing supplies like acoustic panels, moldings, and screws were noted on paper notes at the construction site. These notes were later used to create inventory orders in the ERP system during the next office visit, "if the note was still around." "Now we have accurate inventory balances all the time, and the right materials are going to the construction site", Leskinen describes the significance of the application.
Power Apps applications streamline everyday life (spoken in Finnish)
The latest mobile application serves project estimating. Leskinen estimates that the ERP solution is used daily by almost every Inlook employee: "Some use it more, some less, and some may not even realize it, but eventually, they all use the ERP system, even if they have a mobile app for inventory orders in their hands." With Dynamics 365 and the connected mobile applications, all master data for the business is gathered in one place, and once data is entered into the system, it can be utilized from the beginning to the end of a construction project. "The common thread is to improve productivity", Metsola summarizes and emphasizes the importance of collecting and analyzing data in high-quality and professional construction projects. "When data doesn't need to be printed out and re-entered in another place, errors decrease, processes become more efficient, and work becomes more meaningful."
The implementation project was successfully completed within budget and on schedule
In 2019, Inlook became aware of the end of support for their previous ERP system, Microsoft AX 2012, which is when the possibilities of Dynamics 365 became apparent to the company. After considering various options, Inlook decided to continue relying on Microsoft solutions and the expertise of their partner Efima, who had been responsible for maintaining AX. "Of course, we conducted comparative research, but we chose Efima based on our positive past experiences. We've succeeded together before – in smaller and larger projects – and that has an incredibly significant impact. They have the knowledge and people we can trust", Metsola explains.
The implementation project was a year-long effort that Metsola and Leskinen remember with pride. Careful planning and trust in the right people yielded positive results. "We were always on schedule and stayed within the clear framework we had set. The result was exactly what it was supposed to be, so it was a truly successful project", Leskinen sums up. "We also stayed pretty much within budget, which is quite extraordinary for large IT projects like this", Metsola adds with a laugh. The key to success not only includes good planning and project management but also investments in engaging and training employees. Nearly 80 training sessions were organized for the staff to familiarize them with the intricacies of the new ERP system.
More than just a system provider
At Inlook, the system overhaul has been seen as an opportunity to renew old processes and operating models. The cloud-based and continuously evolving business platform was recognized for offering new possibilities to develop everyday tools, and Efima and Inlook still have many new mobile applications on their joint development roadmap.

The framework for ongoing development is provided by the recently completed IT playbook, which also emerged through close collaboration with Efima. "We went through our entire IT architecture, analyzed what we had, created a roadmap for where we wanted to go, and what steps to take", describes Metsola. The guiding principle is to unify and standardize processes and systems to improve productivity, which in turn supports Inlook's strategic goals of profitable growth.
Leskinen and Metsola characterize Efima's role in the development work as significant. "The IT field has changed tremendously, and we are constantly dealing with the new. That's when we need someone who knows us and our ways of working and can say what makes sense and what doesn't, and also challenge us", Leskinen explains. Leskinen and Metsola together form Inlook's IT department, and Efima has become an important collaborator for the duo and the entire company over the years. "Undoubtedly, the most crucial achievement here is the establishment of a true partnership. When that partnership is in good shape, it's easier to handle even the more challenging aspects that inevitably come up in big projects", Leskinen reflects, and continues: "It also feels safer to embark on new projects."

Both credit the formation of this relationship to like-minded, skilled individuals and open and honest communication – as well as the mentioned enjoyable collaboration. "Many times, at the end of a project, we've had a good laugh because things have gone so well", Metsola concludes, and we thank them with smiles for the conversation.
---

Could we help you too?
You can contact us via the form below.