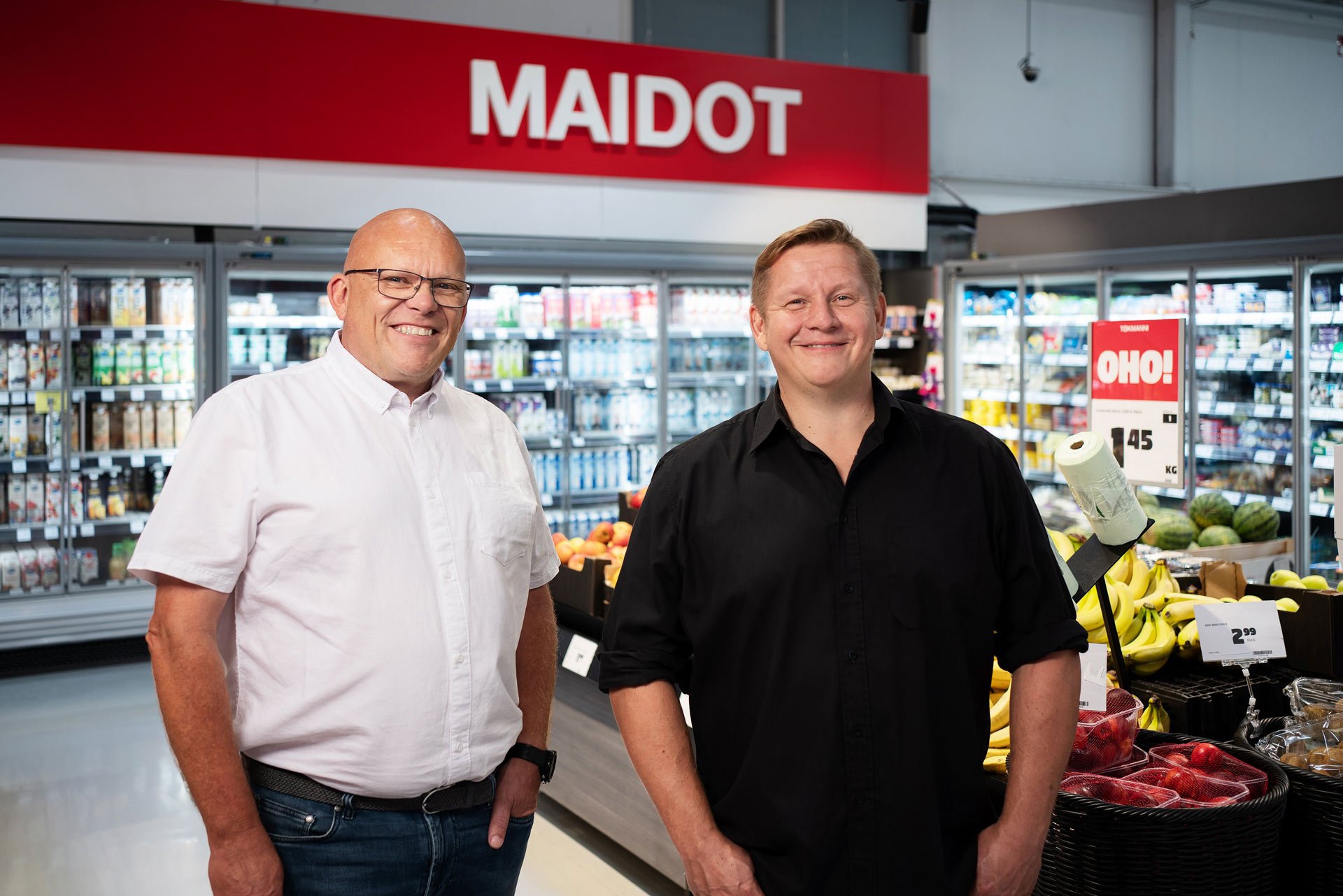 In low-code development, we are particularly fascinated by the fact that ready-made solutions can be produced with such an effortless process.
Finland's largest discount store chain, Tokmanni, is known for its diverse product range and prices that are always affordable. Tokmanni serves its customers with nearly 200 stores all around Finland, and more and more new stores are opened continuously. Tokmanni's Chain Manager, Timo Koskelin, and IT Manager, Toni Eriksson, meet us in front of one of Tokmanni's stores located in Mäntsälä. The building is decorated in large letters with the store's opening hours – which also have to do with the reason of our visit.

Opening hours are a key part of Tokmanni's service, and Tokmanni has traditionally spent a lot of resources on managing the entire store network's opening hours and communicating the changes to various stakeholders. "In addition to consumers, we must communicate the changes to opening hours to several different stakeholders: security guards, cleaners, cash collectors, announcers, and those responsible for air conditioning and lighting regulations. Previously, our opening hours were managed with Excel and changes were communicated to various parties manually. However, the use of Excel, which covers almost 200 stores, was error-prone, and manual file management and communicating changes required a lot of working hours", Koskelin explains. As the number of stores increased, Tokmanni decided to look for a more efficient solution for managing the opening hours.
After mapping out the alternatives, Tokmanni ended up choosing a Microsoft Power Apps solution tailored to their needs. Efima convinced Tokmanni with their expertise and was chosen to create and implement the application. After a couple of months of close-knit cooperation, the application designed to manage Tokmanni's opening hours and communicate the changes was already in use.
The Power Apps solution, which has been in use for a few months now, has proven to be a suitable solution for Tokmanni. "We have been very satisfied with the outcome and have also received positive feedback from our employees: the process of managing opening hours is finally smooth, and the application is easy to use", Koskelin tells. The use of Excel has since been put to stop, and today all Tokmanni's store managers are able to propose changes to their store's opening hours through the Power Apps solution embedded in Tokmanni's intranet page. The solution also provides store managers with a view of past opening hours and information that affects opening hours, such as holidays and events. The proposal made by the sales manager is passed through the application to the regional manager for approval, after which information about the changes is automatically communicated to all necessary stakeholders.
In addition to the end result, Koskelin and Eriksson have been positively surprised by the agile development project of the low-code application. "From an IT responsible's perspective, making a Power Apps solution has been a really nice and painless process compared to traditional IT projects", Eriksson describes. "First of all, even though we didn't have expertise from this area at all and the project involved fairly new people on our part, we stayed well on schedule and got the app done as we had planned at once", he continues. Tokmanni's IT department and business was responsible for determining requirement for the new application, while Efima oversaw the technical execution and implementation.
In addition to the technology selected, Koskelin and Eriksson thank the partnership and cooperation with Efima for the smooth progress of the project. "The cooperation with Efima has been smooth, and the joint project went through really well – in its entirety and with all the people", Koskelin says. Common ways of working were found during the project, and weekly meetings turned out to be a good way to go through the progress and the next steps in the project.
The Power Apps solution, implemented in collaboration with Efima, is Tokmanni's first of its kind, but Koskelin and Eriksson assure that it will not be their last. As a result of the project, Microsoft Power Platform and low-code development have achieved a permanent role in Tokmanni's IT architecture. "Our experiences were so good that we are definitely going to continue down the same path. In low-code development, we are particularly fascinated by the fact that ready-made solutions can be produced with such an effortless process. Which enables experimentation. I believe that in the future we will consider low-code solutions first –before embarking on larger and more massive solution projects", Eriksson concludes.
---

Could we help you too?
You can contact us via the form below.