An efficient Power App to manage your opening hours
Excel out, Power App in!
Managing store information, like opening hours, is often done in Excel. Excel works well until the number of locations grows and following through the changes gets out of control. Using Excel may lead to errors and large Excel sheets are often far from great user experience. But most importantly, Excel does not allow you to follow whether all the changes are correctly and whether the information of the new opening hours will reach all parties involved.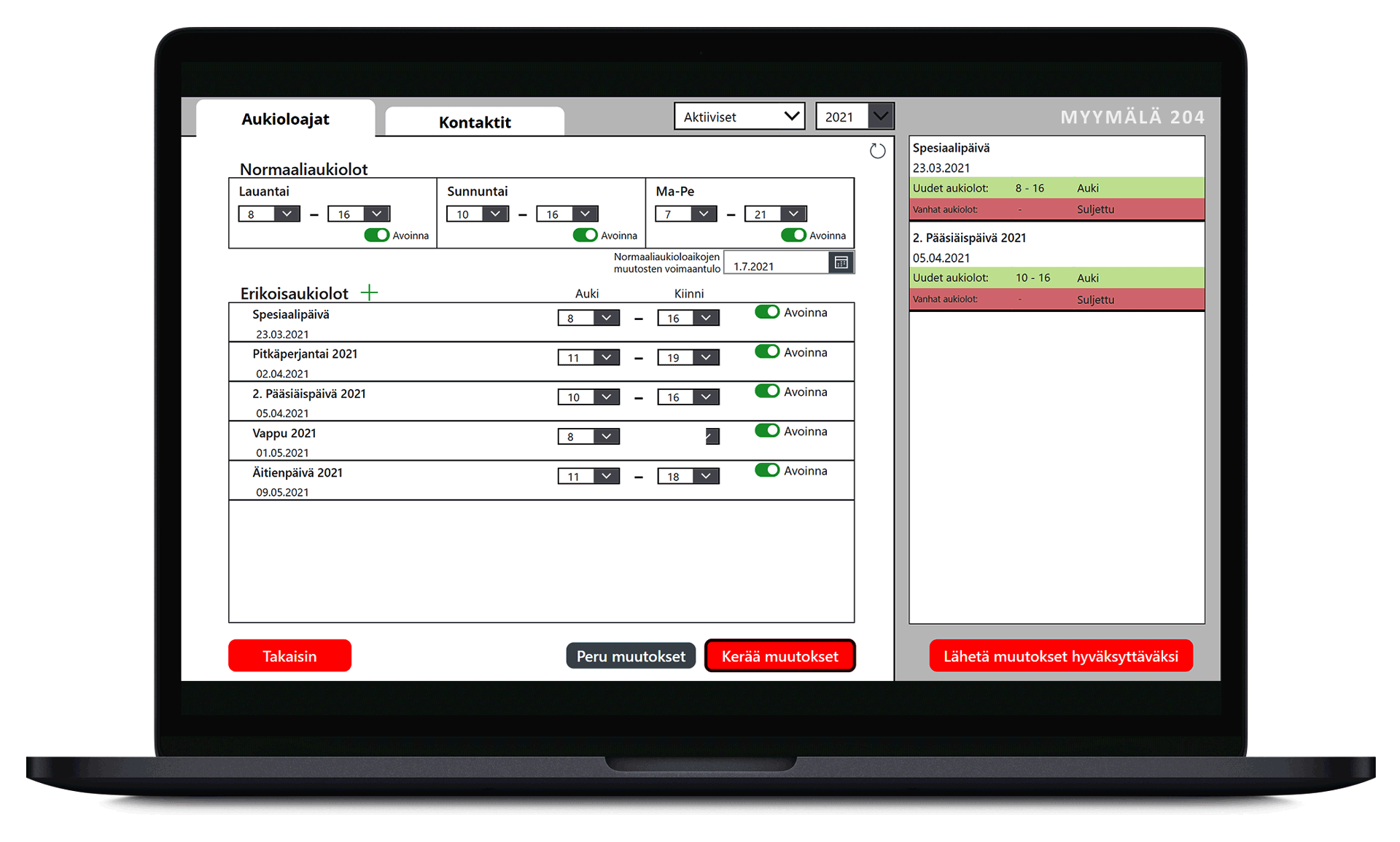 Opening Hours App is an efficient tool for managing store information and its changes
Opening Hours App is a Microsoft Power Apps based solution for managing store and location information like opening hours, contact persons, contractors, and service providers.
With the Opening Hours App, making changes and managing the changes all the way to all parties is easy and transparent. Users book changes by store location and the changes are communicated to all the right contacts by email. Each contact can then acknowledge that they got the message and made the necessary changes by simply clicking Acknowledge button in the email.
The whole team can track the progress of rolling out the changes live from the application and ensure opening hours change smoothly without a glitch. The whole process is transparently manageable and any exceptions are easy to manage.
Opening Hours App in a nutshell
Process
Managing store location information, such as opening hours and contacts, and communication of the changes for all the relevant parties
Industry
Retail, public sector, or any organization with many locations that are visited by consumers
Take control
With Opening Hours App managing store location information is controlled and supervised. Opening Hours App comes with role-based user rights for your users to ensure everyone can do the right things for their role. Changes are approved by managers to ensure data quality before rolling the changes out to the field.
Less mistakes
Opening Hours App guides the users to make less mistakes common to working with Excel sheets. The user experience ensures users can concentrate on their own location and get the job done right.
Full transparency
All changes waiting for approval and changes already rolled out to the contacts can be seen from the app. Everyone can see the situation clearly and take action as needed.
Reliable communication
The Opening Hours App rolls out the changes by reaching out to the right contacts by email. The contacts get the information on-time and can adapt to the changes in opening hours on time.
Check out our other Power Platform solutions
We've created various Power Platform solutions for our customers. Get to know them and find out if your organization could benefit from them.
Talk to an expert
Is it time to get your Opening Hours under control? Let's talk!