Azure Data Platform – tools for managing and processing your business information
With the tools in the Azure Data Platform, you manage and bring your data together and turn it into information that truly supports your business and decision-making. With the Data Platform, you collect, store, process, analyze, and share your business data centrally and efficiently for a variety of uses.
The modern Data Platform is the central location of your company's information
Built with the leading cloud services
The data platforms built by Efima are based on Microsoft's leading cloud technologies and services. Azure Data Lake acts as a central repository for information and facilitates both the collection and dissemination of information.
Data stored in Azure Data Lake can be processed for various purposes with Azure's other tools. Azure Synapse is a comprehensive solution for processing, editing and preparing data for its end users. In addition to Synapse, information is processed, analyzed and integrated into other systems with, e.g. Azure Databricks, Azure Logic Apps and Azure Functions.
Get Dynamics 365 and Power Platform expertise from us
At Efima, you will find a team of experts with vast experience integrating Dynamics 365 and Power Platform solutions with the Data Platform, as well as strong in-depth knowledge of data models related to these solutions. We have also developed ready-made data models for various uses in financial management and reporting.

To streamline the implementation of the Data Platform, we have created standard templates that allow the data platform to be set up efficiently. With the help of the ready-made templates, an information platform based on a selection of Azure services carefully selected by our experts is set up in an agile manner.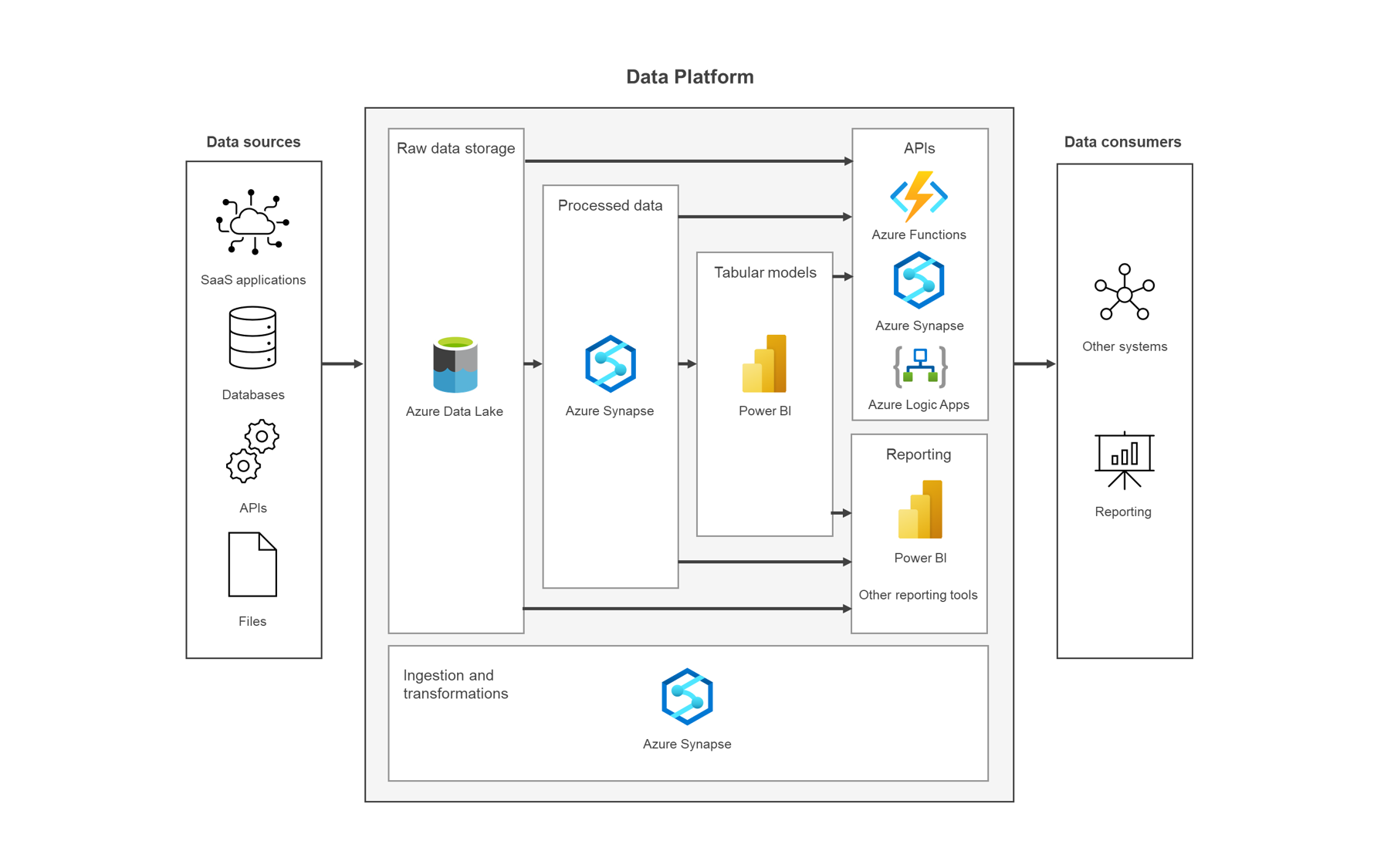 Why is the Data Platform useful?
The modern data platform brings numerous benefits from a business, IT and financial perspective.
Unified platform for your data
The Data Platform is a centralized platform for collecting, storing, processing, analyzing and sharing data formed using market-leading cloud services and technologies. Instead of traditional point-to-point interfaces, only one interface per data source is required to collect data. The centralized platform also makes it easier to process, analyze and pass on data for different purposes.
Maintenance, integrations and scalability under control
Deploying the Data Platform simplifies the daily life of your IT department and reduces the amount of maintenance work required compared to traditional data warehousing solutions. With cloud solutions based on Azure technologies, Microsoft is responsible for the development and maintenance of the platform.

The Data Platform scales agilely with the changing needs of your business, and the ready-made connectors and interfaces of Azure's technologies ensure that data flows seamlessly to other systems as well.
Cost-efficient solution
As a cloud-based solution, the implementation of the Data Platform is easy and effortless. In addition, the operating costs of the platform are performance-based which means that you pay according to usage. Azure's services provide detailed usage and cost data that allows the solution to be tracked and optimized right from the start of development.
Talk to an expert
Please contact our expert below who has the best knowledge of the subject. You can also submit a message or contact request using the form.