Order and manage meeting catering smoothly with Power Apps -based application!
Urgent, last minute calls or smooth meeting catering management?
Meeting invitations and meeting catering requests are typically handled through different channels. Meeting organizer needs to order the catering often separately and then remember informing the possible changes to the catering responsible. The team organizing the catering wrestles with last-minute change requests from different communication channels.
There is also a smoother way to both order and manage meeting catering and automatically handle the change communication with an easy-to-use application.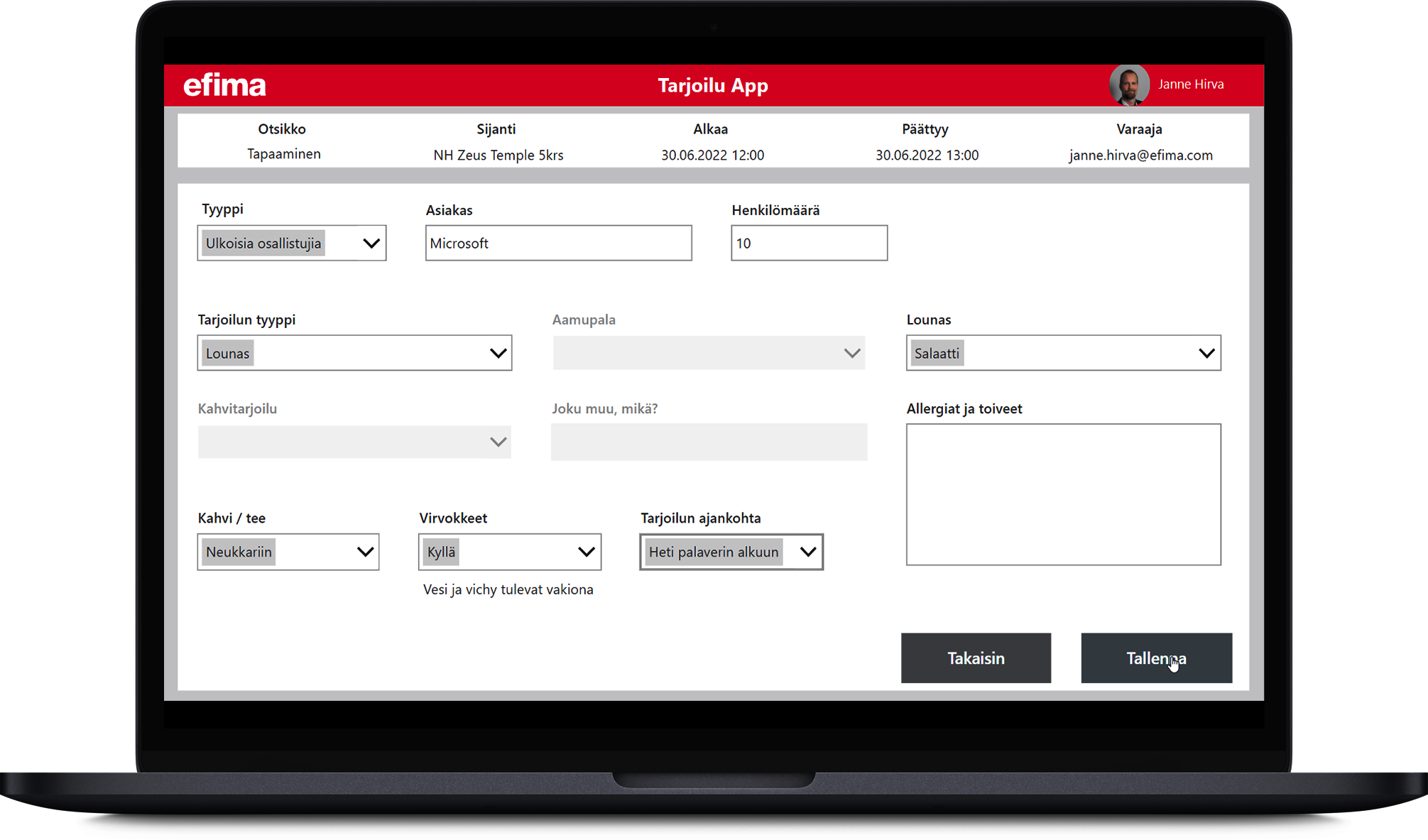 Meeting Catering App makes organizing meetings easier
Meeting Catering App is a Microsoft Power Apps application designed by Efima to help the ordering and managing of meeting catering.
Office 365 meetings are linked with Meeting Catering App which allows the meeting organizer to submit their catering needs. Linking the App with the meeting is done easily at the same time when the meeting is created. Later on, Outlook will also update the possible changes to the catering booking automatically. By this way, both meeting and catering will remain synchronized resulting providing the right catering to the right meeting room, in needed quantities.
Catering management is straightforward as the available catering options are standardized, allowing the user to select the servings from ready-made offering that is defined by the responsible team. Meeting Catering App lets the catering team to update the service orders accurately to the providers when the event changes and possible cancellations are up-to-date in the App.
Meeting Catering App in a nutshell
Process
Organizing meetings and providing meeting catering
Who is it for
Any organization managing meetings and meeting rooms
Why Meeting Catering App?
Easy to use
Meeting Catering App works seamlessly with Microsoft Office 365 meetings. Ordering catering is effortless when it can be done at the same time when booking the meeting.
Common way of working
App makes catering ordering and management straightforward when the orders and communication are handled with one tool, in the same way.
Smooth change management
Changes in meeting schedule, attendees or location? Meeting information is automatically updated in Meeting Catering App and there's no need for communicating the changes manually.
Check out our other Power Platform solutions
We've created various Power Platform solutions for our customers. Get to know them and find out if your organization could benefit from similar solutions.
Talk to an expert
How can low-code applications help your business? Let's talk!